This article provides you with a step-by-step summary of the video creation process, beginning with the creation of the project until It is finished
I.

Create a project
Note : You cannot create a template from the mobile. This step can only be performed by your account administrator or Customer Success Manager on the platform.
On the home page, create a new project by clicking on the button +
Select an automatic template

Name your project

Select your frame

Shoot your first frame then approve you are satisfied with it. If not you can shoot again.

Cut if necessary.You can aloso replace it by a video from your phone gallery. You may find all of these action in the article : Add/ Edit/ Cut / Delete a frame

Fill in your frames

You can add animation texts on each frame.

You may also manage the audio frame by frame and import music on your project
Once you have finished editing, you may preview the video. Just click on preview video

If you are satisfied with the video, you can export it which means you send the final video on your phone's storage space or on drop box/google drive.

You can also edit the project.

Export requires a video encoding whose time varies according to its total duration.

Once your video has been encoded, it is synchronized to the platform.

You can find your complete video on the platform without having to upload it manually.

Be sure to maintain a stable internet connection, as well as not to close the application during this operation.

Your project is now complete and you may check its history at the bottom of your screen

You can share the video once It is complete by clicking on share share video
If some features are not available or editable, it depends on the type of template used as well as the permissions granted.
II. Follow-up of the project
From mobile App
Once on the home page of the app, you will find all your projects sorted in decreasing chronological order.
All you have to do is look at the status
From the platform
Select the Projects section from the menu at the bottom left of your screen.
Once you are on your project page :
You can download you HD video on your computer
Vous can archive a project, It is not deleted neither from the platfom nor from your account. You will find it under : Projects > Projects archived

The Share button generates a link that allows people to view the video

Adding subtitles allows you to request subtitles.

You will find all the detailed information about this process in the article How do automatic subtitles work?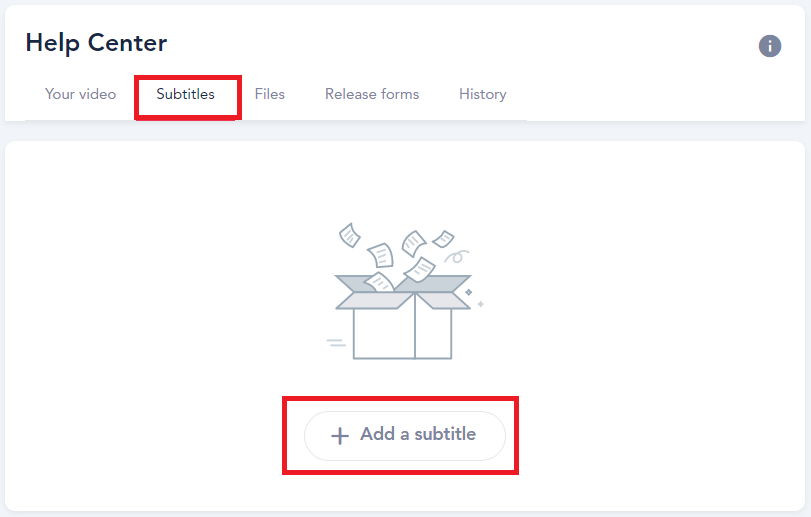 Note: Some features depend on the type of license you have and the permissions your administrator has granted you. Please contact your Customer Success Manager for more information.