Sending notifications depends on the settings of the account. Please check with your administrator that emails and mobile notifications have been activated on behalf of the company.
Manage notifications by email
Once the notifications are activated for account, please set them up to your user account. To do this, simply log on to the platform here . Once on the platform, follow these steps :
Scroll down the menu

Click on "My Account"

Select the Notifications tab

Adjust your settings according to your preferences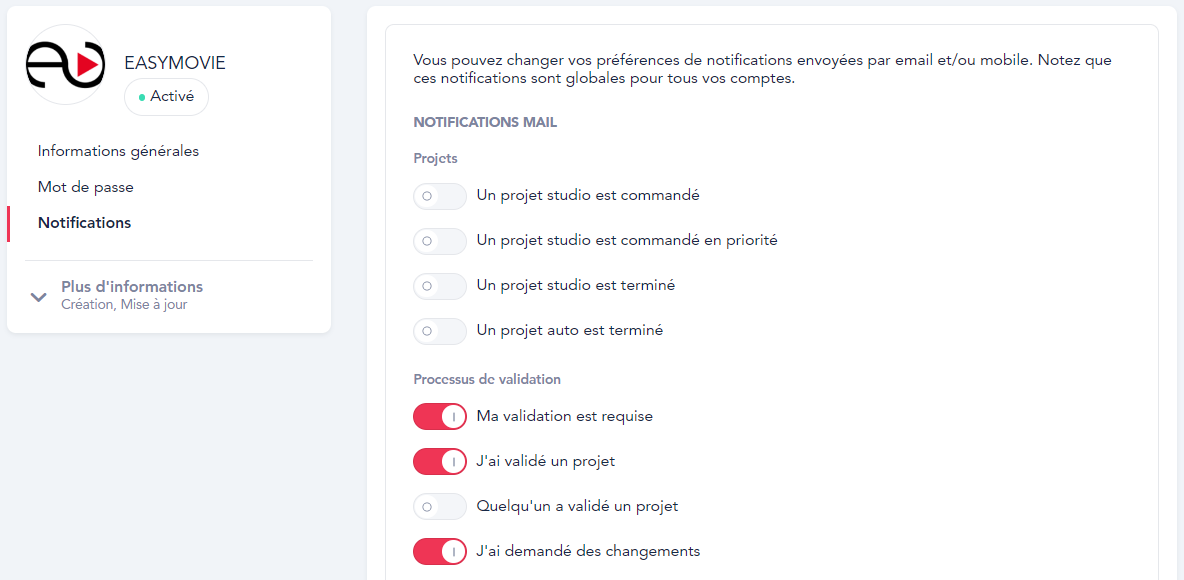 You can enable or disable the receipt of notification emails by checking or not checking the different boxes.
However, we advise you to disable emails for which no action is required on your part
Manage notifications for mobile
On your mobile, you can also enable/disable notifications by following the previous step, then click "Save".

You are not receiving the notifications
If despite these settings you do not receive your notifications by email, make sure that :
Your email address corresponds to the email address linked to the Easymovie account

The emails are in the spam folder

Emails ending in @easy.movie are not blocked by your DSI
If you don't receive the notifications on your mobile, make sure that :
your phone allows notifications from the Easymovie app.

You can check this information by going into your phone settings.