When and how to create an EasyMovie account ?
Even though corporate video is not a new format, it is more than ever a very important media for good marketing communication. Easymovie is the first digital platform for creating content dedicated to businesses.
We bring you a quick and efficient solution with:
Our mobile App
Our SAAS platform
Our Teams of experts
Easymovie is structured around three pillars:
Autonomy because thanks to our mobile app, users can film via specific storyboards in a totally autonomous way.
The industrialization of video production because thanks to our project management platform in SAAS mode, users can centralize and manage many video projects.
Adoption with our expert team who trains and accompanies users throughout their projects.
You film, we mount, and you broadcast professional quality videos in a very short period of time.
To meet our experts and define a project together, contact us.
Creating a test account
You can download the application and create an account to benefit from 3 free videos.
Please refer to this article and install the app
Launch the App
Fill in the fields
Start your 1st video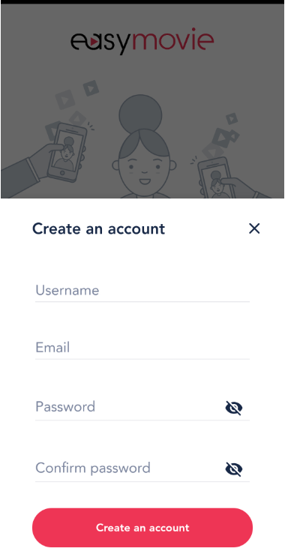 Tip: The privacy and security of your data is very important. Your password must contain a minimum of 8 characters including capital letters and numbers.
Find our step-by-step guide to creating your first video in the First Steps section.
Business account is already created and you would like to activate your user account
An Easymovie administrator has just created your account. You will receive an email to confrm the registration with a link to set your password to activate your account.
Log in to your mailbox that you filled in with our administrator when creating your user account

Click on the link or on the "Activate my account" button

Enter your password

Confirm your password

Click on " Activate my account "

You are connected to the platform!
Your IDallow you to access the platform as well as the mobile app.
Email activation not received
If you have already completed the above steps and have not yet received the activation email, please check the tabs, files and spam filters in your inbox.
Still not ? contact us