You have a business account and your user account is active.
Edit password
Log on to the platform with your usual password

Click on your name at the bottom left to bring up the menu

Select My Profile. Your profile will open on the screen
You come on the General Information tab. Then click on the second tab Password

Enter your current password and your new password

Confirm your new password

Validate by clicking on the Save button
Tip: The privacy and security of your data is very important. Your password must respect the following conditions:

Reset password
Note: To be able to reset your password, you must have access to the email address linked to the Easymovie account.
1. Go to the EasyMovie platform
2. Click on Forgot password?
3. Enter your email linked to the Easymovie account to reset your password and then click on Send.
An email will be sent to your address containing a link.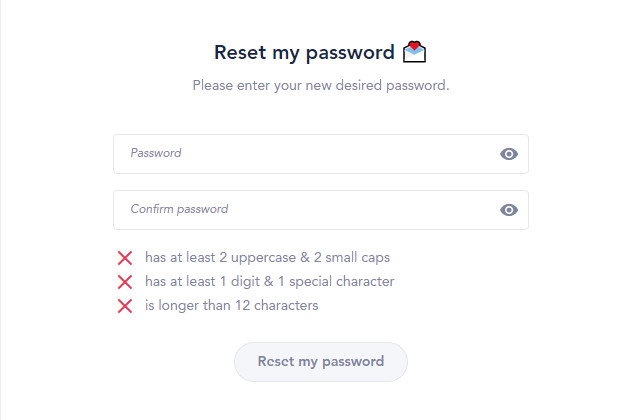 4. Click the link or the Reset button and enter your new password then confirm it.
5. Validate your new password by clicking on Reset my password
6. You are now connected to the platform
I did not receive email to reset password
If you have already completed the above steps and have not yet received the reset email, please check the tabs, files and spam filters in your inbox.
Still Cannot find it? Contact our support