A video template or storyboard is a framework that will guide you in the making of your video project. They are accessible from the EasyMovie platform, with your approved graphic charter already set up within it. Just select the template corresponding to your project, then insert your shots one by one to finish your video. 

Create or edit a template
Templates can be created or edited only from the EasyMovie platform. For your first template, it is advised to be guided by your Customer Success Manager (CSM).
As an account admin, you have the possibility to create new templates, following the steps of the process below :
Select the Templates tab from the menu on the left of your screen.
Once on the templates list page, press New template at the top right of your screen

A new page entitled New template will appear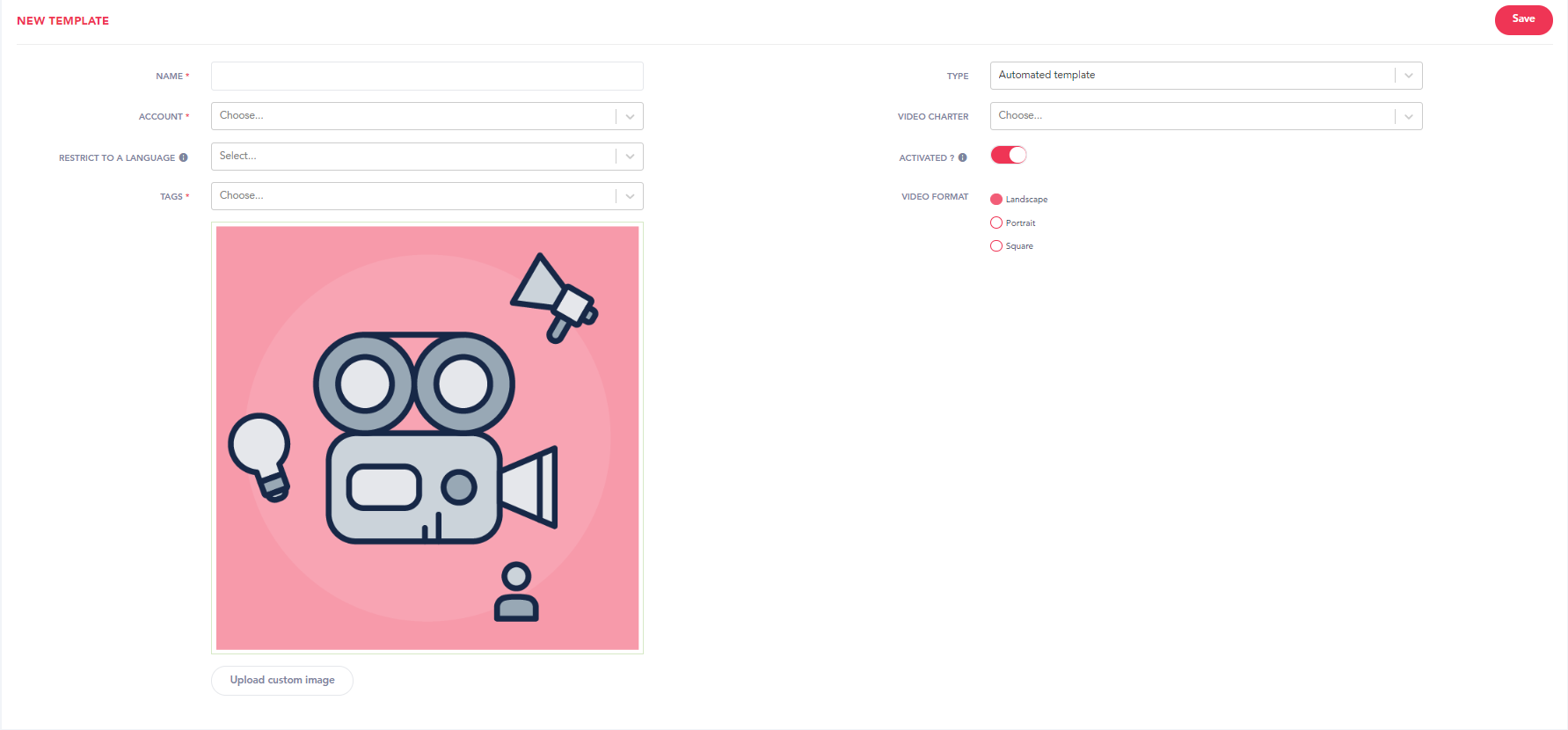 Name your template

Set the template type you want to create (Warning : the default value is

Auto)

Write your account's name (if you are on multiple company accounts)

Attach a video charter to it.

You can restrict your template to a language, however you must ensure that the language
of your profile matches the language of the template. If not, the template will not appear.

Choose the video format of your template ( Landscape / Square / portrait)

Click on Save
Don't forget to check that the Activated ? box is checked
Note: You cannot change this information once the template is saved. If you have ever forgotten to attach a charter to it or you have made a mistake about the type or video format, you will have to create a new one and start over. You can only edit the name and the restriction to a language or its visibility.
Export a template 
To print or share your template via email, go to your templates' list, click then on the ... on the right of the template you wish, then select Print version so that your template get exported as a PDF file.

Duplicate a template 
To create a template based on an already-existing one, get to your templates' list, then click on ... on the right of the template you wish, then select Duplicate. A copy of your template will be done and you can rename and then edit it to your liking.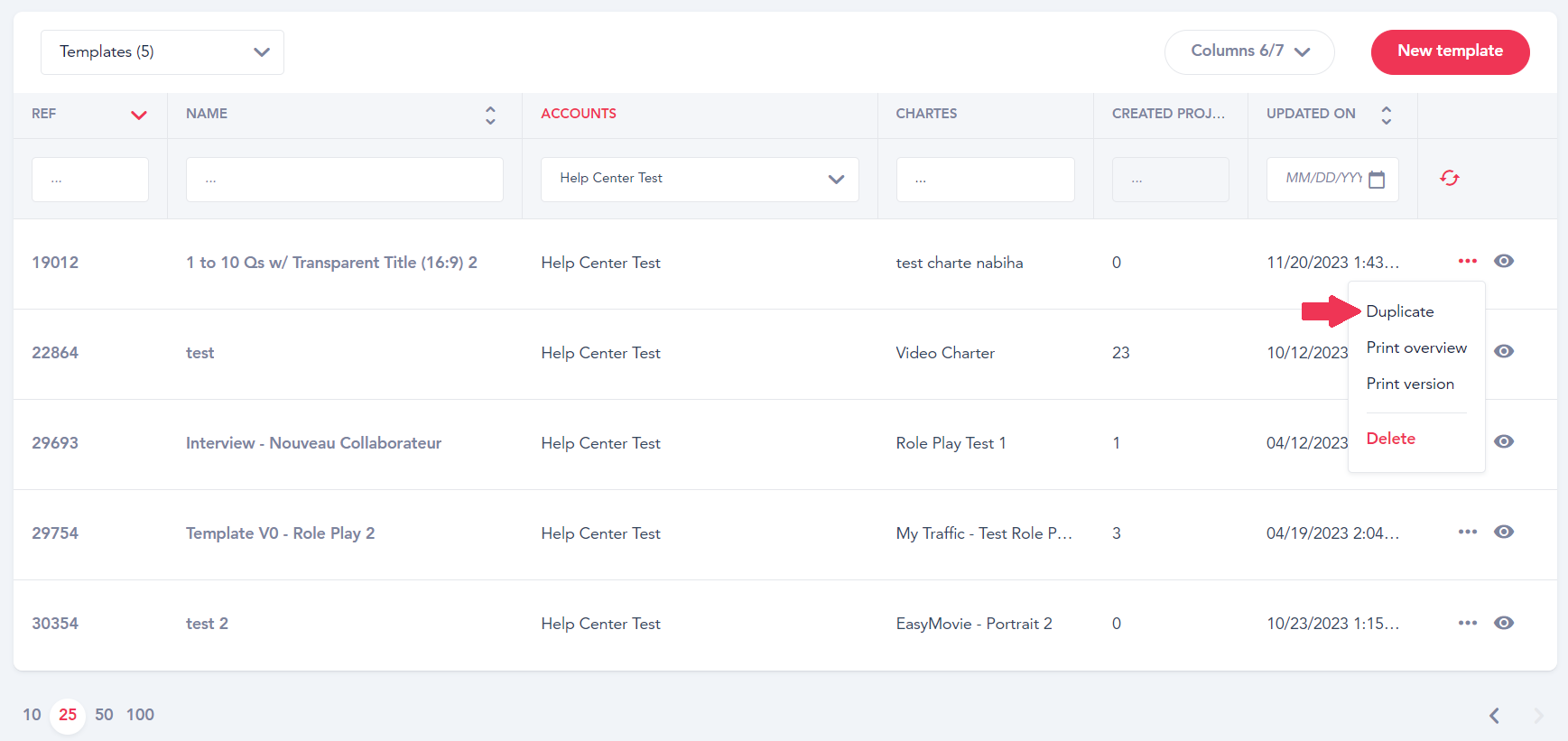 Deactivate or delete a template 
To clear your list of template and the one when you create a project, you can either temporarely deactivate or delete templates.
For a temporary deactivation : 
Click on your template and go to the Details then toggle the Activated ? option (so that it goes from red -activated- to grey -deactivated-). The template will still exist but it will not be visible when creating a new project.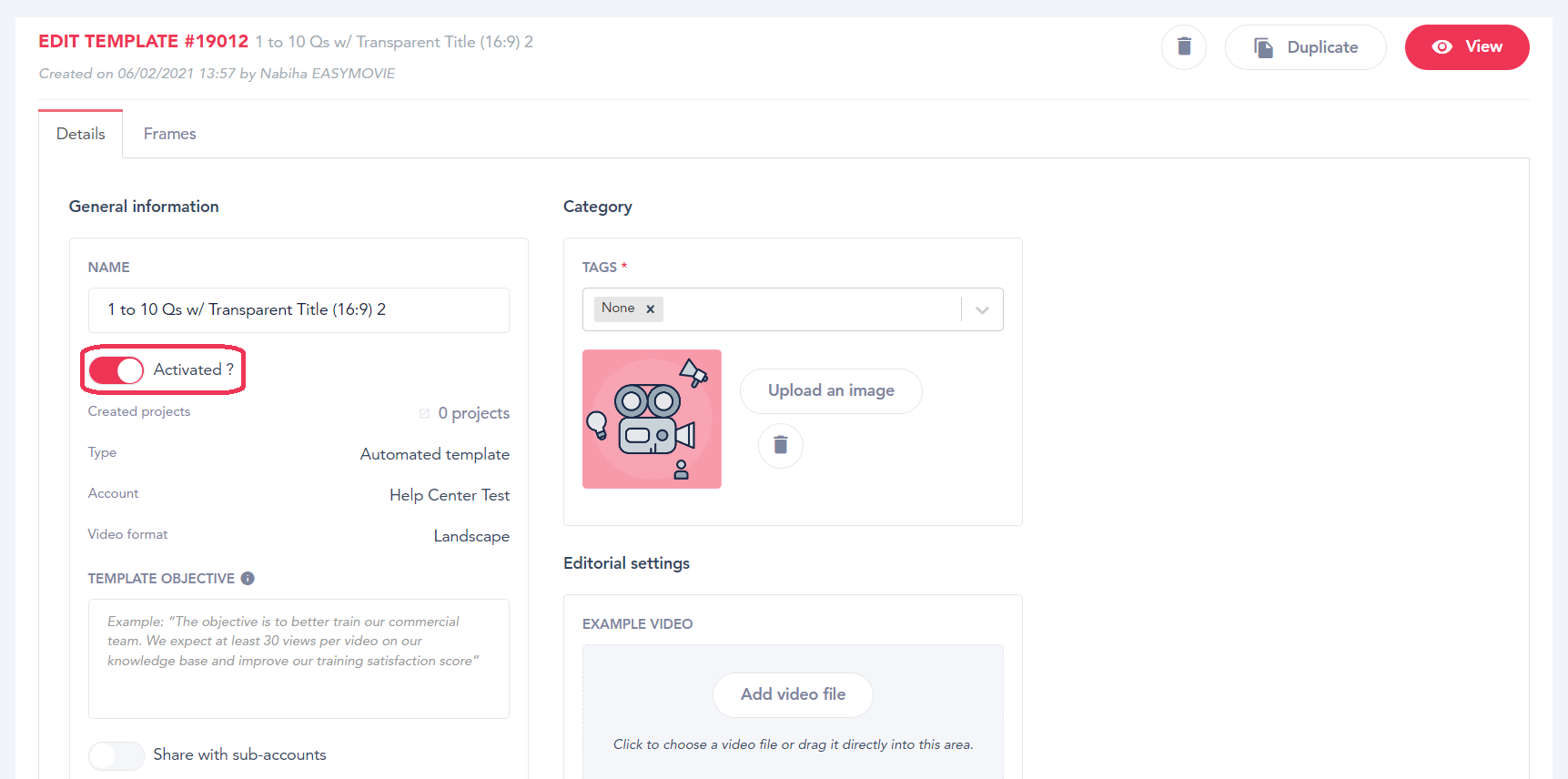 For a definitive deletion :
Get to your templates' list, then click on ... on the right of the template you wish, then select Delete, to delete the template completely from your list.