In order to be in conformity with the Authorization for use of image, have your speaker fill out a form to transfer the rights. You can also subscribe to the EasyMovie option giving you access to an automatic release form directly integrated into the application. Have your speakers sign it electronically after each video. It will be automatically sent to their inbox and archived on the EasyMovie web platform.
The article covers the following topics:
Access the release form
To access the Authorization for use of image, follow these steps:
Once on the platform, click on "admin" then choose your account.
Once on your account, click on the tab "Account options" then "Project settings"
Scroll down to the bottom of the page to access "Release Form"
Click on "Customize text"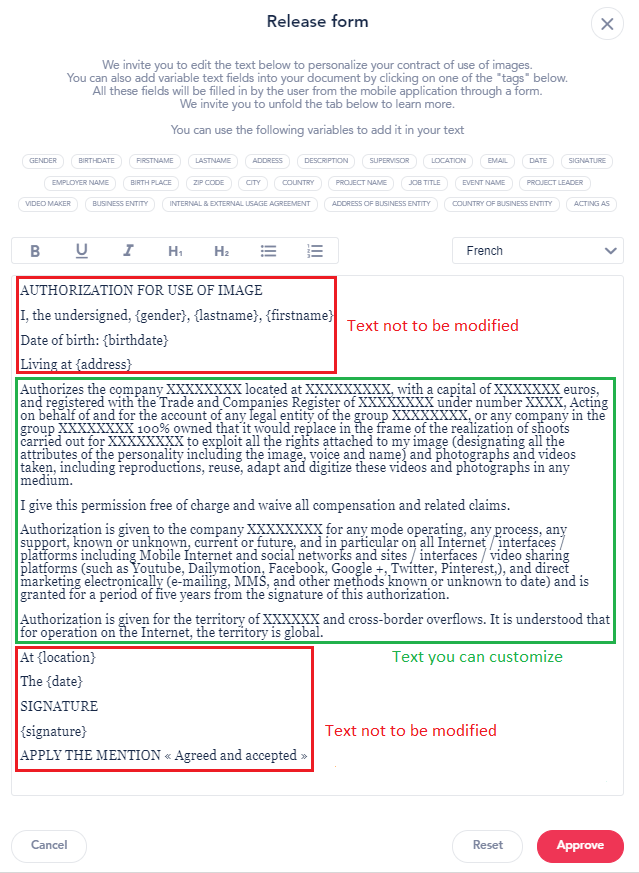 Customize the release form
Once on the release form page:
Modify and personalize your text from the 2nd paragraph (green box)
Do not modify the fields that are in the red boxes
Click on "Approve" at the bottom right of the page
A green pop up should appear at the top of your screen to notify you that your text has been saved

Your release form is now personalized.