1. Why to publish on YouTube ?
EasyMovie assists you during the whole chain of creation and management of your videos, from the design phase to the publication.
Since YouTube is the reference platform in the field of video hosting, it is natural to offer you a quick way to send your content to YouTube directly from the EasyMovie platform.
2. How to setup my YouTube account on EasyMovie ?
Only Admin users can setup YouTube publishing.
- On the platform, from the Account tab > Settings, activate the following option :

- In order to connect your EasyMovie account to the YouTube channel on which you want to publish, the following setup window appears :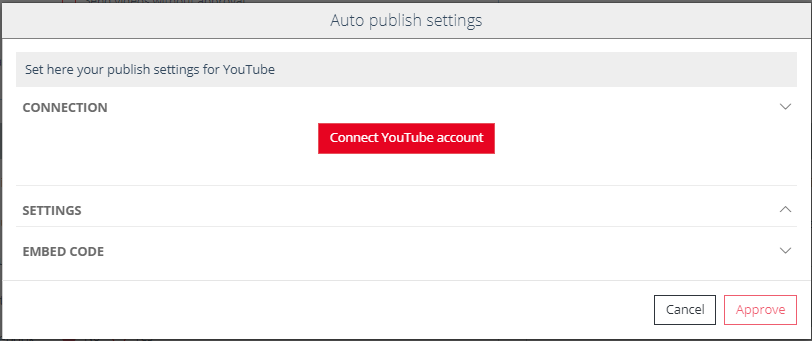 - Click on "Connect YouTube account" then enter your account credentials ID :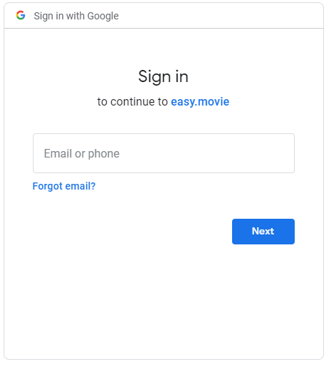 - Then follow the steps on the screen to connect your YouTube account.
- Once your account is properly associated, you can configure the default publishing settings. You can choose the default title, description and tags for your publications.

You can also restrict the publication according to the type of template (auto or studio) and set the status of the published videos by default (private, public, not listed) :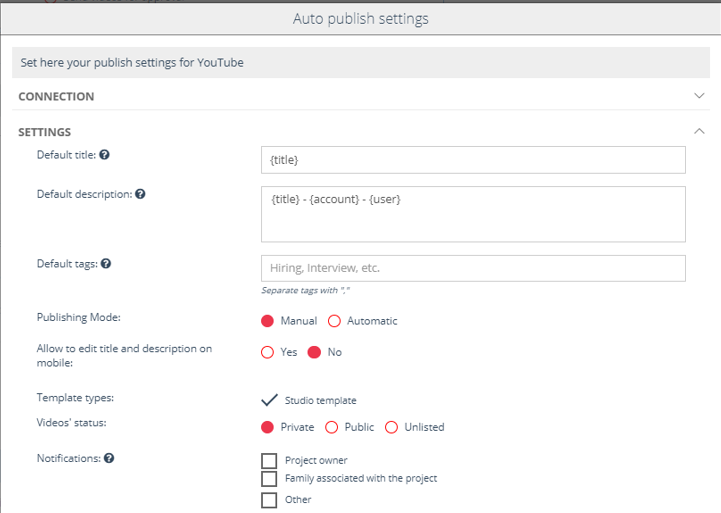 3

. How to publish my videos from the EasyMovie platform ?
A - Manual publication
Once a video project has "Completed" status, the "Publish" button appears in the top right corner of your project view.
If you click on this button, a publication window appears pre-filled with information previously defined by default.

You can modify these settings again before publishing.

By clicking "Approve", you approve the immediate publication of your video on the set YouTube channel.

A mail in sent to ou confirming that your video has been sent with success
B - 'Automatic publication'
The EasyMovie automatic publication consists in activating the immediate and automatic publication of all your EasyMovie videos, as soon as they are under "Completed" status.
The Settings defined by default (title, description, tags) are then used during the publication but can always be modified from your YouTube channel directly.
Every time a video is automatically published, an email is sent to you confirming that the video has been posted to your YouTube channel.
Note : Once your project is exported, the video will be automatically shared on Youtube
If you want to activate the automatic publishing option on your account, please contact your Customer Account Manager or Account Manager.
For any questions or requests for assistance to setup your YouTube account from the EasyMovie platform, please do not hesitate to contact your CSM directly.
4. How do I post my subtitled videos on YouTube from the platform?
First of all, to be able to publish a subtitled video from the platform to YouTube, your YouTube account must have been associated with EasyMovie after August 10, 2020.
If you use the YouTube post prior to this date, you will need to disconnect and reconnect your YouTube account to EasyMovie.
A - Manual publication
Once your YouTube connection is up to date (see above), here are the different possibilities:

- For any project published on YouTube before the date of update of your YouTube connection, it will not be possible to send subtitles (we are currently working to improve this behavior). Please feel free to come back to this page to see if the changes have been made.

- With an up-to-date YouTube connection, for any manual published project:
All subtitles already validated at the time of publication of the project on YouTube will be sent at the same time as the publication of the main project.

Each new validated subtitle will be automatically sent to YouTube

It is also possible to publish a project and all associated subtitles directly from the view

of a subtitled project.

Thereafter, the same operation is applied and all approved subtitles will be automatically added to the YouTube video
B - 'Automatic publication'
Once your YouTube connection is up to date (see above).
For each project automatically published on YouTube, as soon as a subtitle is approved on the platform, it will be automatically sent to YouTube.
C - How do subtitles sent to YouTube work?
We do not send videos with embedded subtitles directly into the video but we send the video without subtitles and then add all available languages using the subtitle feature of YouTube.
This allows you to have a single YouTube link to your video but that contains all the languages available for your video.
In addition, the YouTube algorithm better references public videos that contain such subtitles