To edit your template, you must select the "Frame" tab. To add a new plan you will have to press the + icon. Each frame can be named, duplicated or deleted and you can add or modify :
Files
You can upload a video or image file from your computer to :
Illustrate your plan and serve as an example

Question panels, intro/outro as an integral part of your video
Note: If you do not want the user to be able to modify the plan you just uploaded, you will need to lock it in the Settings.
Goals
What's the frame for ? What should the frame show ?
Intro frame or outro, questions

indication on the subject to be filmed

Texts to fill
Tips
They can be technical ou scenic :
Different kind of frames

Camera movements

Images composition

Ambiance
Length
You can add indicative duration or you can also use minimum and maximum frame times which will cause the recording to stop when the maximum time is reached and vice versa, the user will not be able to stop the recording of his rush until the minimum duration is reached. Please note that it is very difficult to make videos with such time restrictions.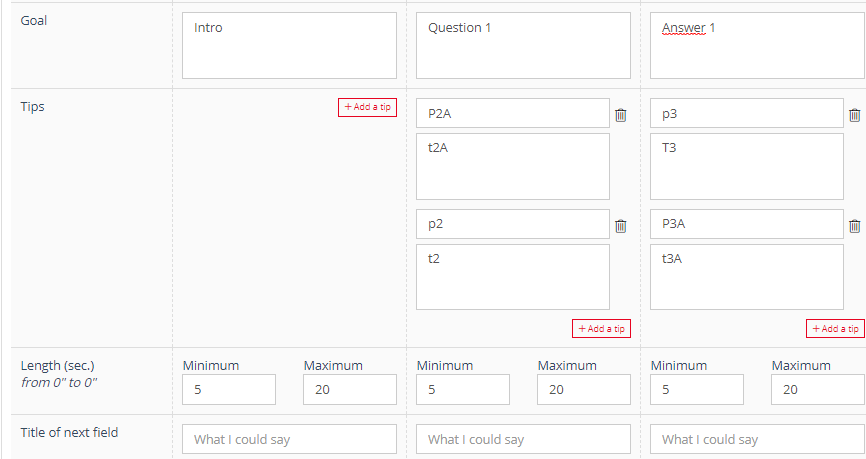 Title of next field
These are instructions to the speakers to help them during filming.
What could be said
Give examples of what your speaker can say is very relevant and saves time.
This gives him valuable guidance and enables him to organize and prepare his speech in a coherent manner.
The goal is not to tell the person exactly what he or she should say, but to draw out the main lines in order to keep a natural discourse.
Animation style
This section allows you to add your text animations and configure them from the template :
Title

Speaker info

Key words

Panel
Audio
If no music has been added from the "Details" tab, then by default the audio will be set to 100% video.
This section allows you to manage the audio plan by plan from the template, you will have the choice between:
The "settings" section allows you to apply a specific behavior to each of your frames according to whether or not you want to lock someelements from the following list :
Locked video: the imported file will be locked on the mobile app, users will not be able to delete or modify it
Locked audio: the audio setting will be locked on the mobile app, users will not be able to change it
Fixed lengh :

makes the durations you have entered earlier restrictive and not for indication

Display logo : if you uncheck this box, your company logo will not appear on this frame.

Enable to add text

Lock this frame style : the frame style will be locked on the mobile app, users will not be able to modify it. The style of the frame corresponds to the graphic rendering of the text animations.

Enable to switch camera

Default camera